Arashiyama is one of the most-visited destinations in Kyoto, so restaurants offering mouthwatering traditional cuisines can be found close to the attractions in the mountains. However, the famous tofu cuisine in the area is mostly not vegan because of the broth used, making it hard for vegetarians and vegans to enjoy everything Kyoto offers. Fortunately, a couple of restaurants understand our needs and provide vegan set course menus! As these restaurants also serve meat and seafood dishes, you can visit them even if your family and friends are meat lovers.
A List of Vegan-Friendly Restaurants in Arashiyama
Tenryuji Shigetsu (天龍寺 篩月)
The World Heritage Tenryuji Temple has a vegan restaurant serving traditional Shōjin Ryōri. Overlooking the temple's infamous garden, it is one of the best spots in Japan to enjoy traditional Japanese cuisine. Apart from the gorgeous garden and mountain view, the thoughtfully crafted dishes served at Shitetsu are phenomenal!
There is no doubt as to why it is a Michelin-starred restaurant. Visitors have often described the entire experience as serene and even surreal, embodying the ultimate Japanese aesthetic.
Shigetsu has three set courses: Yuki (雪), Tsuki (月), and Hana (花). The good news is that a reservation is not required for Yuki, which comes with 5 dishes and a bowl of soup. The elegant and flavorful dishes made with seasonal ingredients will surely fill you up. In winter, a small hot pot is most likely a part of the course to keep you warm!
While each dish may seem small, you will surely feel satisfied even if vegan dishes usually don't fill you up. So if you are just after the experience of having Shōjin Ryōri in a temple, there is no need to go for the more expensive courses, Tsuki and Hana.
If you are after the premium course, Tsuki and Hana, remember to reserve via their official website HERE at least 2 days in advance. You will enjoy the incredible food in one of the restaurant's private rooms.
Tips:
☛ If you feel uncomfortable sitting on the tatami mats, ask for a chair.
☛ It is best to reserve even if you plan to order the Yuki set course. While the restaurant has a capacity of 250 people, it is often fully booked out, especially during the peak travel seasons.
Tenryuji Shigetsu's Business Hours and Access Information
Tenryuji Shigetsu is open from 11 am to 2 pm daily.
The restaurant/temple is:

A 5-minute walk from Randen/Keifuku's Arashiyama Station (嵐山駅).
A 15-minute walk from JR Saga-Arashiyama (嵯峨嵐山駅) Station and Torokko Saga Station (トロッコ嵯峨駅) and Hankyu's Arashiyama Station (嵐山駅).
Oku no Niwa (良彌 奥の庭)
Besides Tenryuji Shigetsu, another traditional restaurant in Arashiyama to enjoy Japan's infamous Kaiseki Ryōri is Oku no Niwa. The restaurant that specializes in tofu and Yuba (tofu skin) cuisine not only has vegan set menus but also offers gluten-free and halal options! The restaurant even has prayer rooms for those who need to pray!
Apart from the more expensive set menus, Oku no Niwa also offers cheaper options, such as tempura noodle soup. Of course, vegan and gluten-free options are available and don't need to be reserved.
The large complex of Oku no Niwa is divided into three sections. The main dining space doesn't require a booking. In addition to the open area, there are also a few small half-private tatami mat rooms for smaller groups of customers. If you are after some privacy and/or a fancier Western seating option, reserve one of the special rooms.
Oku no Niwa also has traditional-style private rooms with tatami mats and a gorgeous garden for those after a more luxurious dining experience. But note you need at least 4 people to reserve these rooms.
Important: Booking for vegan and gluten-free course menus is essential. You can reserve online HERE.
Oku no Niwa's Business Hours and Access Information
Oku no Niwa is open from 11 a.m. to 5:30 p.m.
The restaurant is a 5-minute walk from Randen's Arashiyama Station (嵐山駅) or a 10-minute walk from JR Saga-Arashiyama Station (嵯峨嵐山駅).
If you plan to take Hankyu, it is a 15-minute walk from Hankyu's Arashiyama Station.
Note Oku no Niwa is at the back of Yoshiya Arashiyama Honten (良彌 嵐山本店), selling Yuba Cheese.
Saga-Tofu Ine (嵯峨とうふ 稲)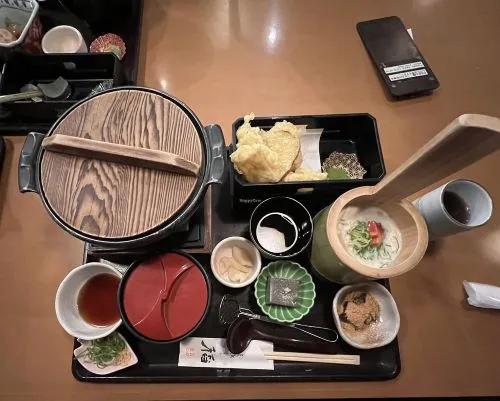 Another option to visit for a tofu lunch or dinner set is Saga-Tofu Ine, opposite Tenryuji Temple's front gate. It is a great place to enjoy various tofu dishes and Warabi Mochi rice cake. In a popular sightseeing destination like Arashiyama, the price tag of Saga-Tofu Ine is reasonable.
While the restaurant serves non-vegan set menus, the great news is it has a vegan option, Vegetarian Gozen (ベジタリアン御膳). Besides rice, vegetable tempura, pickles, and dessert, the main ingredient of all the dishes in the set is soybean. Whether it is the sesame tofu or the homemade tofu skin, they are all amazing and have a rich soybean flavor.
As a Warabi Mochi specialist, we are sure you will love the traditional confectionary at the end of the meal too!
If there is a queue when you get there, don't worry. The turnover rate is fast because the restaurant is spacious and has many seats.
Refer to HERE for Saga-Tofu Ine's menu.
Note that you might find Saga-Tofu Ine's flavor light, depending on what
Saga-Tofu Ine's Business Hours and Access Information
Saga-Tofu Ine is open from 11 am to 6 pm (last order).
Saga-Tofu Ine's main store is a 2-minute walk from Randen's Arashiyama Station. If you take JR, it is an 8-minute walk from Saga-Arashiyama Station (嵯峨嵐山駅).
Discover Other Vegan-Friendly Restaurants in Kyoto
Obviously, your visit to Kyoto wouldn't just be around Arashiyama, and the good news is the city has many other vegan-friendly restaurants. With various options available, no matter which cuisine you crave, you can find a restaurant serving delicious vegan or vegetarian dishes that satisfy your craving!
Refer to our Guide to Kyoto's Vegan-Friendly Restaurants for more information!